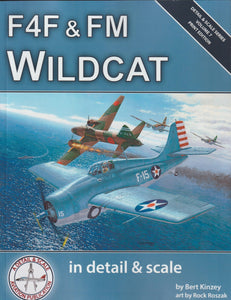 F4F/FM Wildcat In Detail & Scale Volume 7. Softcover Book.
Regular price
$19.99
Sale price
$29.00
Unit price
per
In Detail
F4F/FM Wildcat In Detail & Scale Volume 7. Softcover Book.

Detail & Scale published volumes on the Grumman Wildcat in 1988 and again in 2000. This new work combines all of the content of those early works into the most detailed book ever published on Grumman's only aircraft to serve on the front lines from the first to the last day of World War II. But F4F & FM Wildcat in Detail & Scale goes far beyond the coverage of those two earlier publications. This new book also includes scores of additional photographs, many of which have never been published, along with over three dozen line drawings and full color aircraft profiles. The text has also been rewritten and greatly expanded. The book begins with a comprehensive developmental and operational history of the Wildcat, and follows that with an all-inclusive chapter on the various U. S. Wildcat variants. Every variant of the Wildcat is covered, including the XF4F-2/-3/-4/-5/-6 and -8 prototypes, the single example of the F4F-3S Wildcatfish floatplane, and the F4F-3/-3A/-4/-7 and FM-1/-2 operational variants. Both the French G-36A and the British Martlets & Wildcats each have their own chapters which provide wide-ranging coverage of these two programs.A comprehensive chapter on Wildcat Details, long the hallmark of the Detail & Scale Series of aviation publications, follows. This chapter contains nine sections covering the cockpit, windscreen and canopy, engine and cowling, fuselage, landing gear, wings, armament, external stores, and tail details. Complete coverage of almost every square inch of the various variants of the Wildcat is provided through more than 110 high resolution photographs (69 in full color). These detail photographs are a combination of original Grumman and Navy pictures taken during Wildcat production and photographs of eight different restored Wildcats in various museums across America.The comprehensive details chapter is followed by a new chapter that provides a colorful look at the paint schemes and markings used on Wildcats during their operational service. Changing Navy directives for camouflage treatments and markings are provided that chronicle the history of one of the longest operational periods of any WWII combat aircraft.As with all books in the Detail & Scale Series, the final chapter covers the scale models of the Wildcat, from the early kits that are now only collector's items, to the gamut of kits that have been available for the past half century. The most popular standard modeling scales of 1/144th, 1/72nd, 1/48th, and 1/32nd are treated as separate sections and the available models in each are reviewed.F4F & FM Wildcat in Detail & Scale is the most detailed look at the Grumman Wildcat ever produced, and the print edition features 108 pages, more than 245 high resolution photographs, 22 full color profiles and 22 drawings.
0.1 to 0.5lb = $4.95 USD
0.6 to 0.9lb = $5.95 USD
1.0 to 1.9lb = $9.95 USD
2.0 to 2.9lb = $12.95 USD
Fast Same Day Shipping!
Free Shipping on Orders over $75.00 USD!
All orders are generally shipped the same day of order!
Shipping Rate Costs include the price for the carrier, time spent packaging, and packaging material used to ship the products.
All Orders will be shipped via USPS Mail.  Large or heavier items may be Shipped via UPS.
Returns
14 Day Return Policy at the time of order.  A full refund will be made of the total cost of the item.  Return of item/items is appreciated.
We will replace your item or make a full refund for any reason of lost, damaged, or stolen.  
Please email us at warbirdbunkertc@yahoo.com or text 570-637-4727.  We will happily help you with any problems.  We are a family-friendly oriented business.
---
Share this Product
---