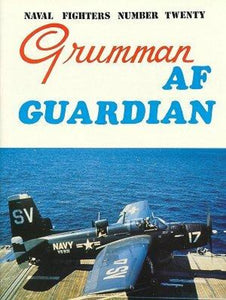 GIN020 Naval Fighters Number Twenty: Grumman AF Guardian Aircraft Book
Regular price
$18.99
Sale price
$25.00
Unit price
per
Product Description
GIN020- Naval Fighters Number Twenty: Grumman AF Guardian Aircraft Book.
80 PAGES, 128-B&W PHOTOS, 8-COLOR PHOTOS, 22-PAGES DRAWINGS
Softcover
ISBN 0-942612-20-5
The Grumman AF Guardian was a replacement aircraft for the Grumman TBM Avenger.  The Grumman AF Guardian was a post-World War 2 carrier-based Torpedo bomber and was used for anti-shipping and anti-submarine duties.  It saw brief service with the United States Navy and United States Marines during the early days of the Cold War.  This book features history, technical data, and photographs of the Grumman AF Guardian.  
In 1953, the mainstay of carrier-based anti-submarine warfare (ASW) forces in the Navy were represented by a pair of Grumman AF-2W and AF-2S Guardians flying as a hunter-killer team and operating from an escort carrier of the Commencement Bay(CVE-105) class. The Guardian's wingspan of 60 feet, length of 43 feet 5 inches and height of 16 feet 7 inches, made it the largest single-engine piston-driven airplane ever to operate from an aircraft carrier.......
0.1 to 0.5lb = $4.95 USD
0.6 to 0.9lb = $5.95 USD
1.0 to 1.9lb = $9.95 USD
2.0 to 2.9lb = $12.95 USD
Fast Same Day Shipping!
Free Shipping on Orders over $75.00 USD!
All orders are generally shipped the same day of order!
Shipping Rate Costs include the price for the carrier, time spent packaging, and packaging material used to ship the products.
All Orders will be shipped via USPS Mail.  Large or heavier items may be Shipped via UPS.
Returns
14 Day Return Policy at the time of order.  A full refund will be made of the total cost of the item.  Return of item/items is appreciated.
We will replace your item or make a full refund for any reason of lost, damaged, or stolen.  
Please email us at warbirdbunkertc@yahoo.com or text 570-637-4727.  We will happily help you with any problems.  We are a family-friendly oriented business.
---
Share this Product
---