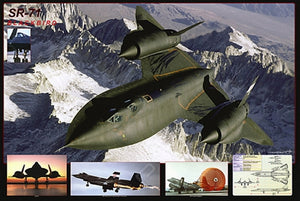 SR-71 Blackbird Poster
Regular price
$10.99
Sale price
$18.00
Unit price
per
Product Description
SR-71 Blackbird Poster, measures 36 x 24 inches.  Sleeved and rolled.
This SR-71 Blackbird post features lovely and detailed crisp photos and diagrams of the SR-71 Blackbird.  A wonderful poster to have for the man cave, home decor, office, shop, or hangar.  The Lockheed SR-71 blackbird was a supersonic MACH 3 reconnaissance aircraft used by the United States Air Force, NASA, and the CIA.  It was the fastest airplane ever built.  Over 30 SR-71 Blackbirds were built, and they first flew in 1964 and were in service until 1999!  The SR-71 is an amazing piece of engineering marvel that came out in the early 1960's!  The aircraft is still futuristically advanced and has been dubbed the most amazing aircraft ever built! 
We Ship 1 day or less!
Get a 15% off coupon with purchase.
In Stock.
0.1 to 0.5lb = $4.95 USD
0.6 to 0.9lb = $5.95 USD
1.0 to 1.9lb = $9.95 USD
2.0 to 2.9lb = $12.95 USD
Fast Same Day Shipping!
Free Shipping on Orders over $75.00 USD!
All orders are generally shipped the same day of order!
Shipping Rate Costs include the price for the carrier, time spent packaging, and packaging material used to ship the products.
All Orders will be shipped via USPS Mail.  Large or heavier items may be Shipped via UPS.
Returns
14 Day Return Policy at the time of order.  A full refund will be made of the total cost of the item.  Return of item/items is appreciated.
We will replace your item or make a full refund for any reason of lost, damaged, or stolen.  
Please email us at warbirdbunkertc@yahoo.com or text 570-637-4727.  We will happily help you with any problems.  We are a family-friendly oriented business.
---
Share this Product
---